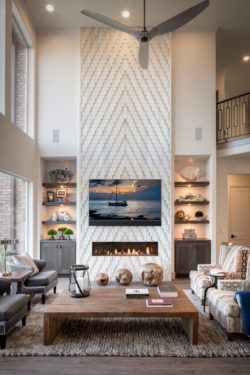 Reflecting on all that we have faced with the beginning of a new decade, a pandemic, a presidential election, social unrest, and natural disasters, one thing keeps coming into focus: the importance of home. 2020 indeed has had its share of challenges, but because of those challenges, we have all had the opportunity to reprioritize and discover what is truly essential in our lives.  When the pandemic hit and we all stayed home, our thoughts focused very quickly to what the word 'home' meant to each of us personally.
Home has taken on new importance as it literally has become our place of refuge, safety, and peace, and with this focus has come new trends in home design.  As our homes quickly became our everything, it has also become very important to have more defined spaces for family gathering, personal renewal, work, and entertaining. Looking into 2021,  here are some of the home design trends that we are seeing as a result of living through 2020.
Kitchen: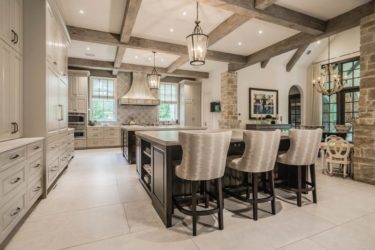 Homes are really all about the kitchen.  It is where life centers.  A custom kitchen, designed to cater to the way you cook, eat, and gather, will add value to your home and your life.  Because the kitchen has become the hub of social activity even more, we've seen a continued trend in open floorplan kitchen renovations, which include many amenities such as islands, multiple sinks, larger refrigerators, and other customized appliances.  Beautiful countertops, fabulous hardware, and an exquisite lighting plan are also priorities in the kitchen. With a new warmth and comfort associated with these trends, the kitchen becomes a pseudo second family room.
Kitchen Favorite:  Natural stone countertops and walls create a beautiful focal point.  Quartzite is a fabulous option for natural materials. There are also some amazing porcelains on the market that are not only beautiful but are a 'work horse.'  I, personally, am not a fan of marble in the kitchen. I know there is a lot of debate on this, and yes, marble is absolutely gorgeous and yes, it will patina over time, but typically, a LONG time. There is a big maintenance issue and if your kitchen is just for 'show', then go for it. But if you really live in your kitchen, I would suggest other products that perform much better and are easier to live with.
Bathroom: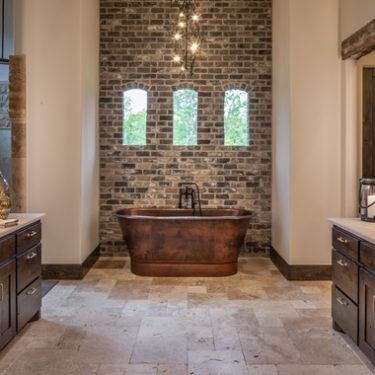 With the stress and chaos that we all live with, a resurgence of creating a space to renew and relax is essential for self-care.  Bathrooms are an interesting space to design because they are so private.  This allows for a lot of creativity in the aesthetics.  A well-planned bathroom, catered to the way each client personally finds ways to renew and refresh, can serve as a spa-like retreat.  Statement slabs in the shower, mixed with different tiles and textures and plumbing finishes, can bring an elegance that creates a peaceful haven to start and end your day.
Bathroom Favorite:  Having a beautiful, comfortable bathtub available creates space for effortless relaxation that is not replicated by any other home amenity.
Home Office: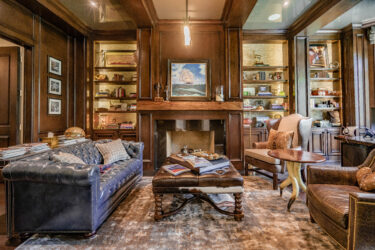 As the majority of the workforce moved home this spring, spaces that had served other purposes, were quickly transformed into home offices.  We are seeing a trend now to design these work from home spaces to be organized, functional, and also fun, as you add personality to the space you spend so much time in.  2020 has given us all the gift of time at home to analyze your life, goals, and what you are ultimately wanting for your own personal space. Office spaces tend to be a catch-all and sometimes chaotic.  Letting go of "things" and holding onto just a few statement pieces that you love can give you a sense of purpose and freedom as your home meets every need you have. Simplify your life and your home. You will be happier for it.
Home Office Favorite: Layered lighting is functional and fabulous.  Lighting is so important in an office space.  Window and lighting placement make a huge difference in the look, feel, and usability of a space.  Including a designer as early as possible in the construction or renovation planning process is highly recommended, as the details decided in the earliest phases of design determine the final aesthetic and functional feel of a space.
Home Bar Area: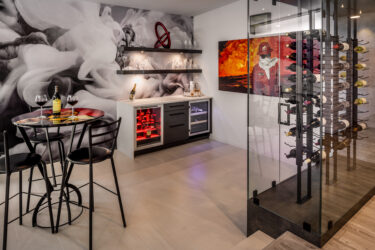 When remodeling, more homeowners are wanting to incorporate a bar area into their home. With the trend of entertaining at home becoming more commonplace, along with the recent "stay at home" mandates around the globe, specialty spaces in the home set aside for entertaining have been utilized more than ever. Whether that is a wine storage space, a bar or beverage serving area, or a full-on lounge, the typical homeowner is looking to have that special place in their home to "belly up to the bar!"
Interior designers love this trend in home design because it offers an opportunity to utilize significant spaces for practical needs, while also offering the chance to create an unexpected and exciting focal point. A beverage serving area can add beauty and function to your home and can be utilized not only for intimate personal or family time but for entertaining clients or friends.
Bar Area Favorite: Creative storage options can add visual interest to the space.  A flashy or exotic backsplash is usually a good place to start. Shelves that hold liquor or beautiful wine racks add to the decor, while below the counter cabinets can hide various bar tools and appliances to keep the area uncluttered. Storing glasses is best when in a closed cabinet and even better if that door has glass and lighting on the inside for drama.
Looking ahead:  Even as we hope life will soon return to 'normal,' we can be grateful for what we have gained this year in wisdom as we have refocused our priorities.  Here is to looking forward to 2021, and to holding on to this new-found focus, hoping it will remain as we take more time to savor every aspect of life at home.