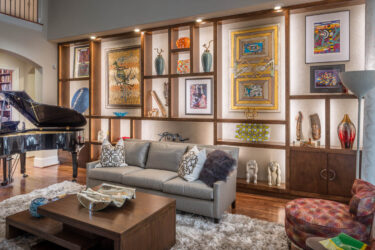 There is no place like a home that functions for you on every level.  Does your current interior design reflect you and the way you want to live? Do you prefer simple lines and a monochromatic color scheme, following the minimalism trend? Or do you prefer something more bold, bright and colorful, leaning toward a maximalist approach?  Kathy Anderson, founder and principal designer of Eklektik Interiors, takes a very personal and customized approach to her designs.  She believes there is room for both minimalist and maximalist persuasions in a home, and she is a master at blending the lines between styles.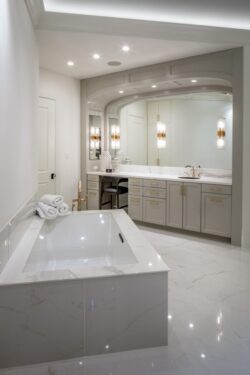 Minimalism:
"Great design can be lost with all of the 'stuff' we surround ourselves with," Anderson explains.  Minimalism is focused on what is absolute in terms of need and function.  It simplifies your life and your home by eliminating the unnecessary visual noise and highlighting a few great pieces. "When a space is beautifully designed and curated," Anderson says, "less can definitely be more."
Her favorite part of incorporating minimalism:  Helping clients go thru their belongings and simplifying their lives by keeping only those items that really mean something. Thoughtful curation tells a meaningful story.
Her favorite space for minimalist design:  I prefer a minimalist approach in personal and intimate spaces. I think that is important because everyone needs a place to retreat to find solace and comfort from the hectic world that we live in.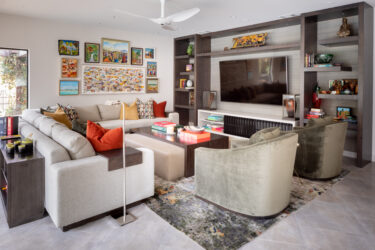 Maximalism:
"Modern Maximalism is more about personalization than perfection," says Anderson. Maximalism is comfortable and livable without being messy or random.  There is an art to it.  It is dramatic, colorful, and outside the box, but is not cluttered, garish, or overly done.  A lot of books, art, accessories, fabrics, and textures can be displayed with purpose and thought in a personalized style that is dramatic and fun. "That's the great thing about design," says Anderson. "Rules are made to be broken but with careful consideration. There can be a fine line between fabulous and frightful."
Her favorite part of incorporating maximalism:  Solidifying the space with rich color for a dramatic background to pop the bright colors, textures, and collectibles.
Her favorite space for maximalist design:  Living spaces, a study, or a home bar are fun places to add color and showcase curated collections.  These spaces can function for gathering and spending time with family and friends, while also telling a client's unique story.
The most important part of Anderson's job is highlighting the function of a space and aligning it with the lifestyle of each client. "That is what I love about what I do," says Anderson,  "every engagement is different because every client is different. They are each unique in how they live, what makes them tick, and what brings them joy." Whether a client prefers a minimalist or maximalist approach or a combination of both, Anderson strives to satisfy each client's needs so their homes enrich their lives.