Designing with purpose is not just about practicality, it is about creating a space that truly enhances the living experience.
DESIGN WITH PURPOSE
Most homeowners are seeking beauty, drama, and the wow factor when they are designing their home. As designers, we want to help each client not only fulfill those dreams, but we also look at function—creating spaces that cater to daily needs, making life better and richer. This combination of luxury and livability will be unique for every client. "Everyone lives differently," says Kathy Anderson, owner and principal designer of Eklektik Interiors. "There is not one answer. I always design to address every wish and then some."
DESIGNING ON PURPOSE
Senior designer Stephanie Vaughan defines purposeful design in two ways- designing with purpose and on purpose.  Designing with purpose is a more practical, functional view. Most rooms in a home have many uses and moving parts. These spaces benefit the user most, when they are designed specifically for their needs, maximizing the functionality. The other perspective on purposeful design is what Vaughan described as designing 'on purpose.'
"When I design a space, I want the homeowner to walk into that room every day and see complete cohesion," says Vaughan. "This means everything fits together, scales correctly, colors and textures match and flow, and we made all of that happen on purpose."  This way of designing on purpose, Vaughan suggests, is what separates a DIY room and a room created with a designer.
PURPOSEFUL DESIGN PROCESS
Designing a home is a very personal process. Each homeowner has a unique lifestyle and therefore needs a custom design to enhance their living experience. When consulting with a client about remodeling, Anderson always keeps needs and budget in mind, while working to design the space to it's maximum potential. "I initially look at the space with no walls at all and go from there," says Anderson. She also asks a lot of questions.
How can I make this room more functional with what exists?
What doesn't have to stay?
Does the cost of making the changes make sense to what I am asking the space to do?
Does the functionality of the space outweigh the cost of making the changes?
"It's all about getting the most 'bang for your buck'," says Anderson, "I have never had a client unhappy about making changes that they really wanted, but I have had clients regret not doing what they really wanted because of a little more money." Open communication through the selection process is key, as the designer can help each client know where each dollar is best spent for their particular needs.
Vaughan also likes to look at the room as a blank canvas, with the challenge in mind to see how far she can go to get the look and space the client wants.  "Sometime the walls that can't move create challenges that many times turn into the coolest part of the project," says Vaughan. "I think the quote goes, 'Necessity (and load bearing walls) is the mother of innovation.'"
HOW TO MAKE A ROOM MORE FUNCTIONAL WITHOUT A MAJOR REMODEL
Maybe remodeling isn't in your near future, but that doesn't mean you can't add to the livability of your home with a few changes. Many rooms can change direction in simple ways without huge costs. "Sometimes just rearranging the furniture and laying the space out differently helps," says Anderson. Or it may be as simple as decluttering. "If it isn't contributing to the function of the space, then get rid of it."
Replacing furniture gradually with more comfortable and functional furniture is another option, says Vaughan. She also suggests upgrading lighting or adding area rugs. "Lighting is another big game changer," says Vaughan. "Most builders do not spend enough time or budget on lighting.  Adding new lighting fixtures or even floor or table lamps will give a room more ambient light, instantly create a cozy feeling where you would want to spend time."  Area rugs can also define a space that seems to not have any boundaries, adding color and sound absorption to a sparse space.
FAVORITE ROOMS TO REMODEL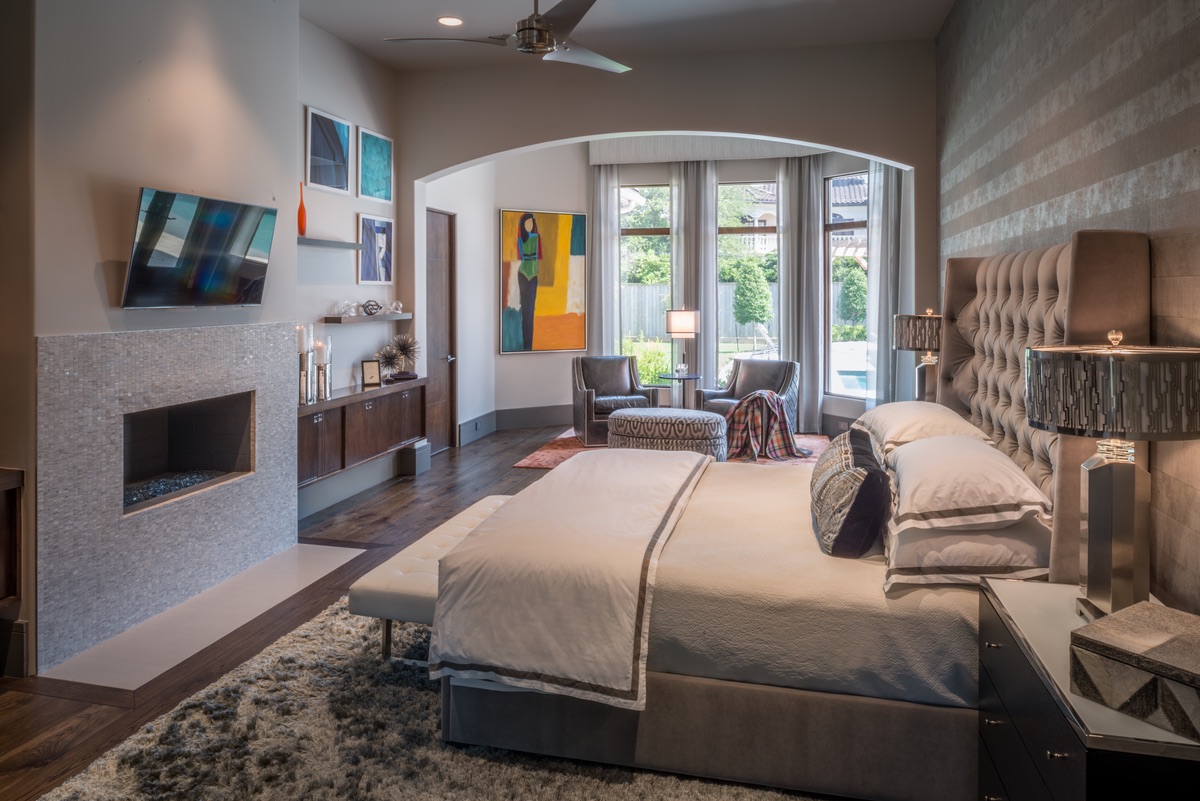 While kitchens are the most popular spaces to remodel because they can impact a client's life so drastically, both Anderson and Vaughan love to design master bedrooms. Clients don't always put the time and money into their bedroom, which Anderson feels is the second most important space in the home. She believes that those private spaces that truly effect life in a more personal way can be a retreat that enriches life and a relationship. "Never underestimate the power in building a stronger relationship as a couple thru a fabulous personal space!" says Anderson.
Vaughan loves the challenge found in designing a functional bedroom to be "warm and cozy, safe and inviting, and a place where you want to spend a rainy day or romantic weekends." While a bedroom will typically not require moving walls, the challenge is in the aesthetic construction, such as a big empty wall that hosts 3 pieces of furniture. "I love to use wallpaper and textured wall coverings, casement divisions to create niches, lighted ceiling treatments, soft fabrics, and many different natural tones," says Vaughan, "which create a calming and relaxing environment." And she adds, "don't forget something soft and fuzzy to step on when you get out of bed to start your day."